Welcome!
Biz Launchers is your best source for advertising materials like shirts, pens, usb drives etc. We have access to over a million promotional products and trade show give-a-ways offering customized solition to fit every budget.

Branded USB Drives, Logo'd letter openers and coffee mugs are just 3 items that Biz Launchers can imprint your logo. The purpose of advertising your business is all about having the client remember you when it is time to purchase. What better way than to have your logo in their pocket with ad specialties. Advertising specialties are small items like book matches, thumb drives, pens or key chains that can be imprinted with your company logo or slogan.

The ideal item is useful, within budget and keeps your business name in front of the customer as long as possible. From small convenience items to impressive corporate gifts, Biz Launchers can assist in finding the perfect item. Also remember than Biz Launchers can also produce corporate jackets, baseball caps and other branded apparel. Be sure to click on 'Branded Apparel' for more information.
Featured Item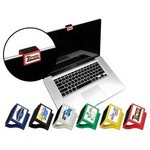 Webcam Cover
Big Brother is watching! Block prying eyes and spying spies with Simba's innovative new Vibraprint™ webcam cover and screen cleaner. Easy clip on design customized with Insert labels printed with our ...
$0.92 - $1.38